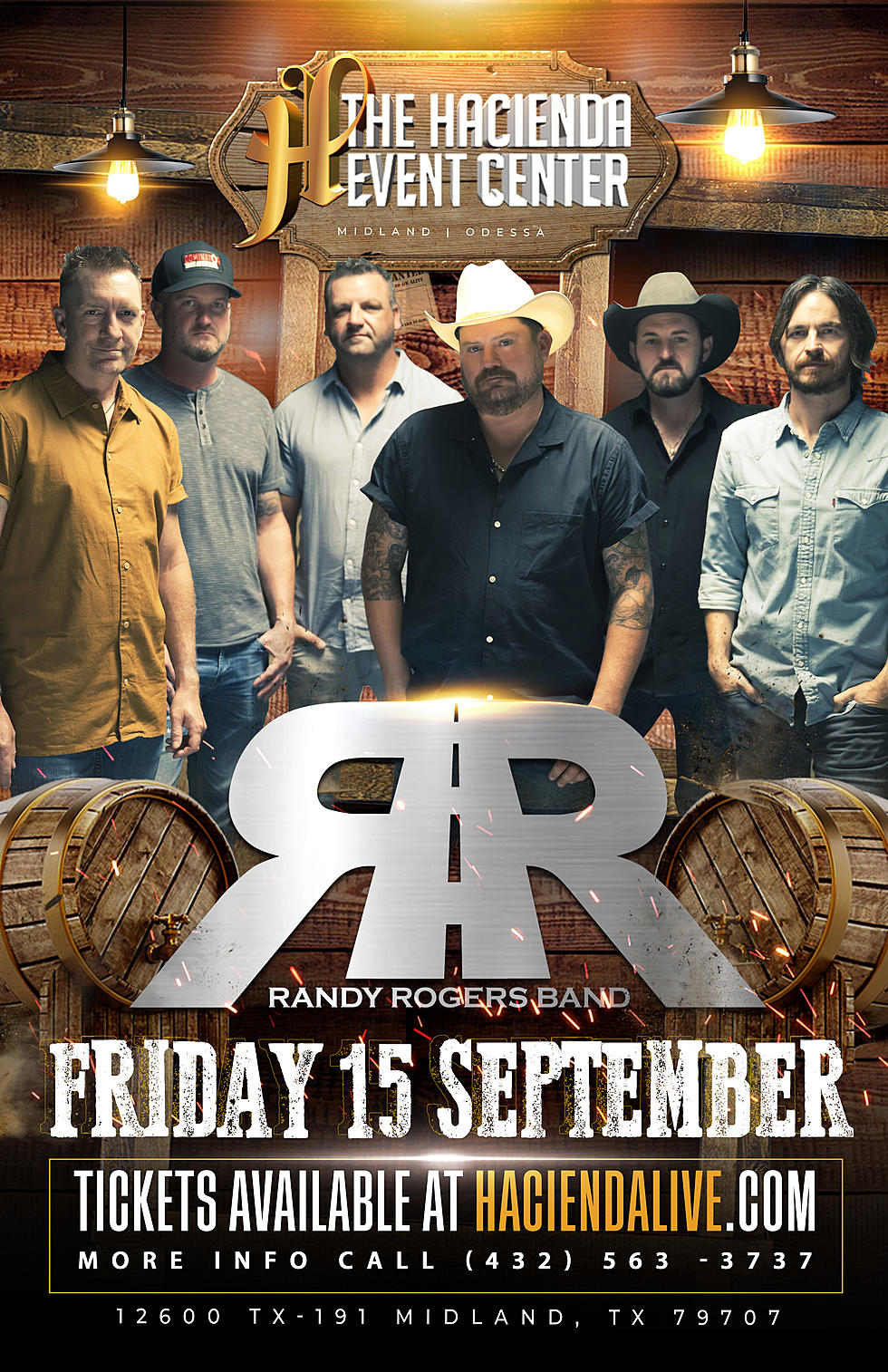 The Randy Rogers Band Is Returning To Hacienda Event Center
La Hacienda
Okay, Randy Rogers Band fans, I have good news for you! The Randy Rogers Band will be returning to the Hacienda Event Center. The Randy Rogers Band will return to the stage at the Hacienda Event Center on Friday, September 15th.
Tickets are $35 in advance. For VIP table information you can 432-563-3737.
Get Your Tickets HERE!
Randy Rogers and his buddy Wade Bowen are on their "Hold My Beer and Watch This" tour. Hold My Beer Volume 3 was just released on July 7th.
The Randy Rogers Band Released their latest album, "Homecoming"  back in October of 2022. Here is the tracklist.
1. "I Won't Give Up" (Randy Rogers, Radney Foster, Jim Beavers)
2. "Nothing But Love Songs" (Randy Rogers, Jon Randall, Radney Foster)
3. "Fast Car" (Randy Montana, Wendell Mobley, Lee Miller)
4. "Over You Blues" (Randy Rogers, Sean McConnell)
5. "Leaving Side of Town" (Randy Rogers, Radney Foster)
6. "Picture Frames" (Randy Rogers, Drew Kennedy)
7. "Know That by Now" (Randy Rogers, Lee Miller, Jon Randall, Jack Ingram)
8. "Small Town Girl Goodbye" (Randy Rogers, Randy Montana)
9. "Heart for Just One Team" (Randy Rogers, John Baumann)
10. "Where'd You Run off To" (Randy Rogers, Parker McCollum, Randy Montana)
11. "Bottle of Mine" (Randy Rogers, Radney Foster)
Remember when Randy Roger wrote a tribute to his dad and the Dallas Cowboys? Check out the video.
When it's all said and done, Randy Rogers will be remembered as one of the most important figures in the history of Texas Music. What he's done for the scene, the artists in it, and the integrity that he and his band have brought to it for over two decades has been paramount.
From his own band, to projects with Wade Bowen and Robert Earl Keen, to his guidance of young talent; including guys named William Clark Green, Parker McCollum, and now William Beckmann, to his business ventures -- including staking a claim in historic Cheatham Street Warehouse -- it's impossible to imagine where we'd be without him.
"Heart for Just One Team" official video is out now! I want to say thank you to the @dallascowboys  for the opportunity to film at AT&T Stadium. My Dad would be so proud. It's always an honor to stand on that Star! Go Cowboys!! Randy Rogers 
This week the godfather of Texas Music, as Parker McCollum calls him, released a poignant tribute to his late father who passed away in 2020.
"Heart for Just One Team" tells the story of a father and son who forge a special Sunday bond, but one that'll ring very familiar for so many father and sons, over Dallas Cowboys football.
'Kiss My Grits!': Do You Know These Iconic Quotes From '70s TV Shows?
LOOK: Do you know these iconic quotes from '70s TV shows
Stacker
looked through the vast array of groundbreaking 1970s television and identified 25 of its most iconic (and most memorable) quotes.