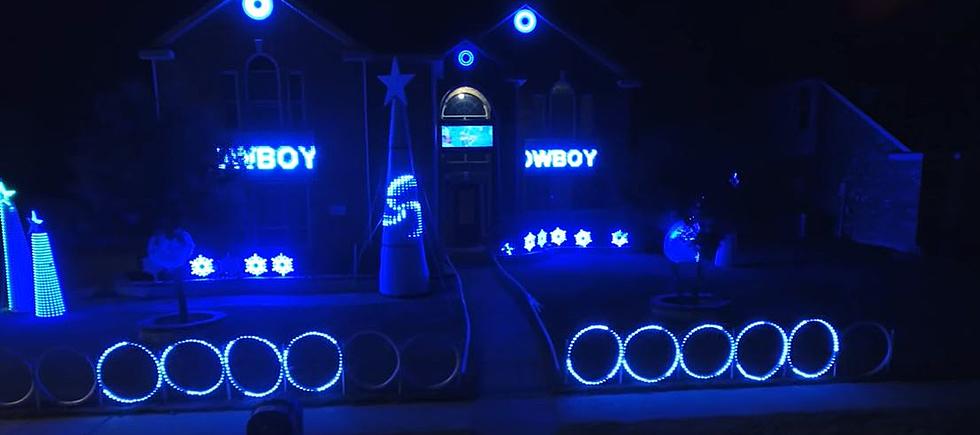 Cowboys Christmas Lights On Texas Houses That All Cowboys Fans Should Love!
Duran Waters Via YouTube
Nothing like a Cowboys Christmas! Look, when you're a fan, you're a fan for every holiday. One of the things we like to do during the holidays is going to check out Christmas Lights! Always a fun time to load the family in the family vehicle and head out to see Christmas lights on all kinds of houses!
And, as a COWBOYS fan, wouldn't it be awesome to come across these houses while enjoying some Christmas lights?
CHECK OUT THESE COWBOYS CHRISTMAS LIGHTS and maybe they will inspire you to do your own Cowboys design on the house!
DE SOTO, TEXAS - COWBOYS LIGHTS WITH TV SCREEN (Pic & Video)
Love the way they utilized the TV screens and LED screens on this house. Sweet!
KATY, TEXAS - COWBOYS CLASSY LOOK (Pic & Video)
You know, sometimes you just need the Dallas Cowboys STAR and blue and white lights to make it happen. this design actually looks Cowboys Classy!
GOT TO LOVE A HOUSE THAT SAYS GO COWBOYS! (Pic)
IF ALL ELSE FAILS, SPELL OUT DALLAS COWBOYS (Pic & Video)
Honestly, this is awesome. They had lights up and said, I will spell the words DALLAS COWBOYS! That's all you need!
IT'S ALL ABOUT THE SONG PLAYING TO THE LIGHTS ON THIS ONE (Video)
You know, nowadays Christmas LIGHTS go with MUSIC, and on this one, it's all about that COWBOYS song!
LOVE all of these designs. Do you know of any COWBOYS Christmas lights here in the 432? Share with us in our comments below!
Are These The Top 5 Dallas Cowboys Man Caves?