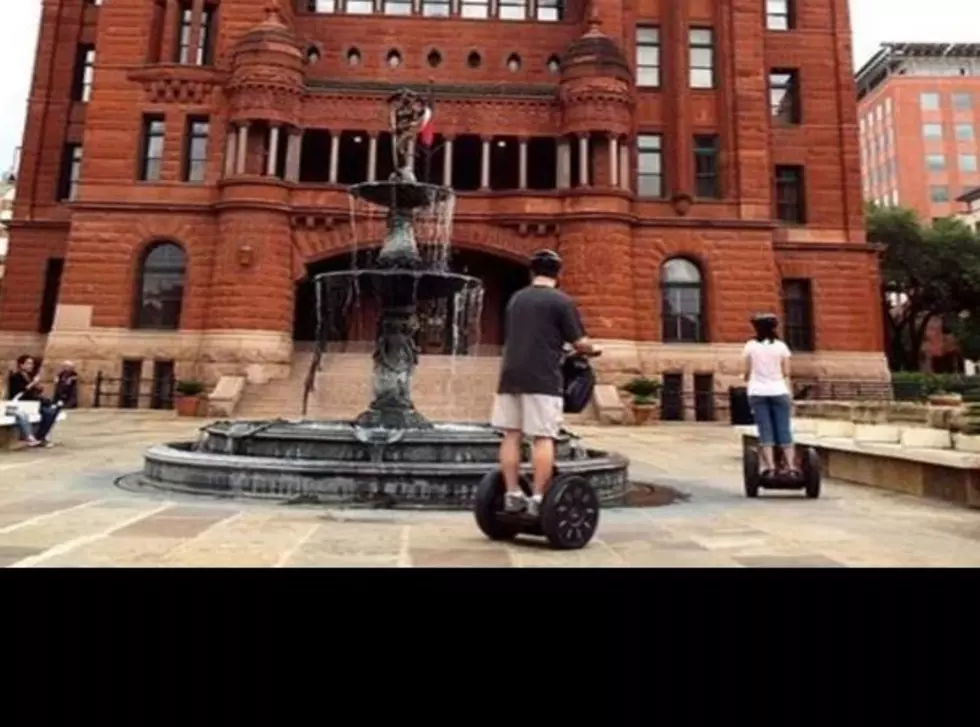 5 Crazy Different Texas Ghost Tours You Can Take!
via viator
This is not your typical Ghost Tour! Does that even make sense? What do you think of when you hear about a GHOST tour? Do you think of just entering a house and walking around it? Maybe getting into a car and hitting up different sights. Or, maybe just walking from building to building and taking pics with your phone. From segways to bats, these 5 crazy Ghost tours are a little different.
 #1 • GUIDED HAUNTED SEGWAY TOUR OF SAN ANTONIO - SAN ANTONIO, TEXAS
Not on your feet, not on a bus! But, on a SEQUE WAY? Yep!
Viator says...
Discover the sordid past of San Antonio, Texas as you embark on a Segway tour through the city. Join a small group and glide through the streets at night to explore the city's haunted locations such as the Alamo and the Spanish Governor's Palace. Your guide regales you with commentary on the city's history as well as ghost stories....
CHECK AVAILABILITY AND MORE INFO HERE
 #2 • FREDERICKSBURG HAUNTED TROLLEY TOUR - FREDERICKSBURG, TEXAS
Who needs a BUS when you can get on a TROLLEY?
Viator says...
Discover the eerie history of Fredericksburg, Texas as you explore the historic streets of the city on a small-group, nighttime tour. Start off with a short walking tour of Main Street, snapping pictures of famously haunted buildings. Then climb aboard a trolley for a journey around this old Wild West Town for more ghostly adventures.
CHECK AVAILABILITY AND MORE INFO HERE
#3 • HAUNTED TOUR WITH GHOST HUNTING EQUIPMENT - GALVESTON, TEXAS
Zombies and Ghost equipment? Let's do this!
Viator says...
You will be escorted by a Zombie-Tour Guide through the historic Strand District of Galveston. Unlike a lot of other tour operators, our tour specializes in providing an experience, rather than a walking history lesson. Our tour, as well, covers the entire Strand, not just small sections of it.
CHECK AVAILABILITY AND MORE INFO HERE
#4 • GHOST AND BAT SEGWAY TOUR - AUSTIN, TEXAS
Another ghost tour on a segway! Am I missing something here with segways? I think I need to learn how to ride one. This tour will actually set you up on your segway. And you get BATS on this tour?
Viator says...
Discover another side of Austin on a 2.5-hour Segway tour that features bats and ghosts. Offered from March to October, this nighttime ride through downtown Austin visits haunted hotels and buildings, famous landmarks, and the world's largest urban bat colony.
CHECK AVAILABILITY AND MORE INFO HERE
#5 • HAUNTED DINNER TOUR - SAN ANTONIO, TEXAS
Ghost and a MEAL? Okay, now you have my attention! Ghost hunting does make you hungry, right?
Viator says...
Meet at Moses Rose's Hide Out, a mid 1800's building only a block from The Alamo & named after the notorious "Coward of The Alamo." Enjoy a meal of real Down South Texas BBQ in this frightfully haunted building. Adult tickets include your choice of two meats, two sides, and a drink.
CHECK AVAILABILITY AND MORE INFO HERE
Celebrities Who Lived in Haunted Houses
Below, check out 25 stars who claim to have lived in haunted homes.