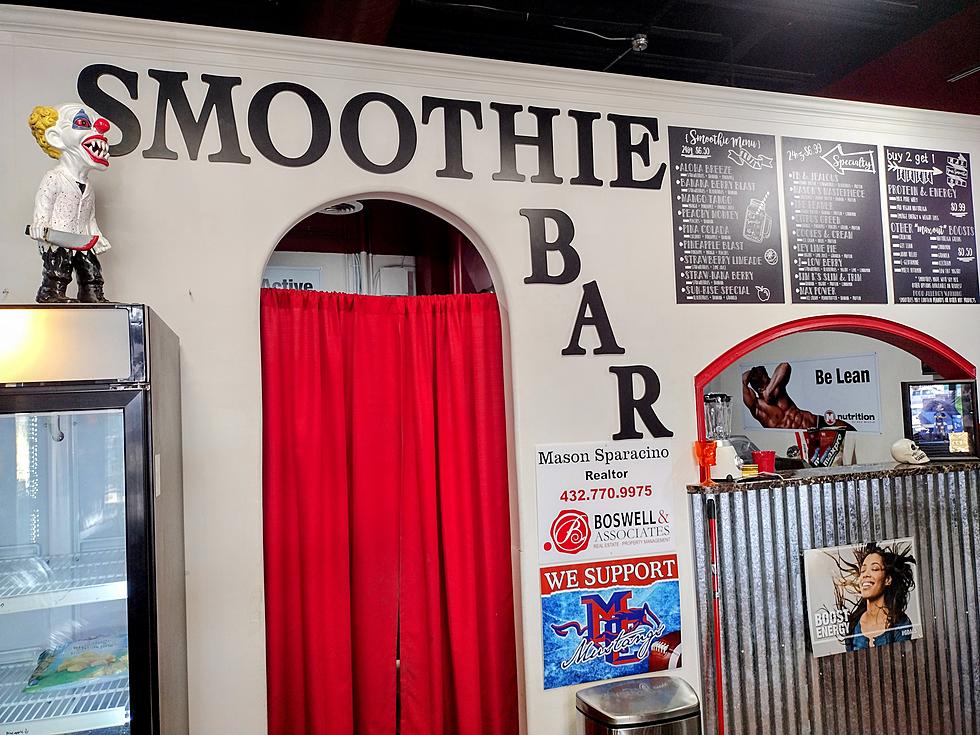 Which Permian Basin Smoothie Bar Has The 'J-Low Berry' and 'Kim K's Slim & Trim' ?
aye aye images
Where Can You Get The J-Low Berry or Kim K's Slim & Trim Smoothies?  M Nutrition by Max Muscle in Midland or Odessa.  Who loves smoothies? I guess the question should be, who doesn't? Smoothies rock and yesterday for the first time I hit up M Nutrition in Midland. Yes, they have a SMOOTHIE BAR and it rocks. Who knew there were so many different varieties of smoothies to choose from?
WHERE IS M NUTRITION LOCATED?
Two locations in Midland at 4300 Midland Dr. in Odessa at 2421 N.Country Road
WHAT DOES M NUTRITION HAVE?
M Nutrition by Max Muscle has high-end supplements, pre-made meals, and smoothies. Plus much more!
WHAT KIND OF SMOOTHIES DO THEY HAVE?
They have a lot. Here are some of their most popular ones.
Mason's Masterpiece featuring Chocolate, Peanut Butter, Banana, and Protein
J-Low Berry featuring Strawberrriesm Blueberries, yogurt, Lime and Cinnamon
Kim K's Slim & Trim featuring Banana, yogurt, Protein and Cinnamon
PB & Jealous featuring Peanut Butter, Strawberries, Blueberries and Protein
Mango Tango featuring Mango, Pineapple and Orange Juice
The cool thing is that you can MIX and MATCH and ADD to any smoothie. You can add protein & energy as well.
I had the Pina Colada which featured coconut, pineapple, and bananas and it rocked.
Let me tell you, while I was there I watched like 10 people come in and grab their smoothies within 10 minutes. Smoothie lovers don't play games. They have to have their smoothies.
Big shout out to Mason, John, Krissy, and Destiny. They were awesome. Make sure to stop by the Midland location and say hi to them!   They will take care of you!
The 10 Best Texas Liquors