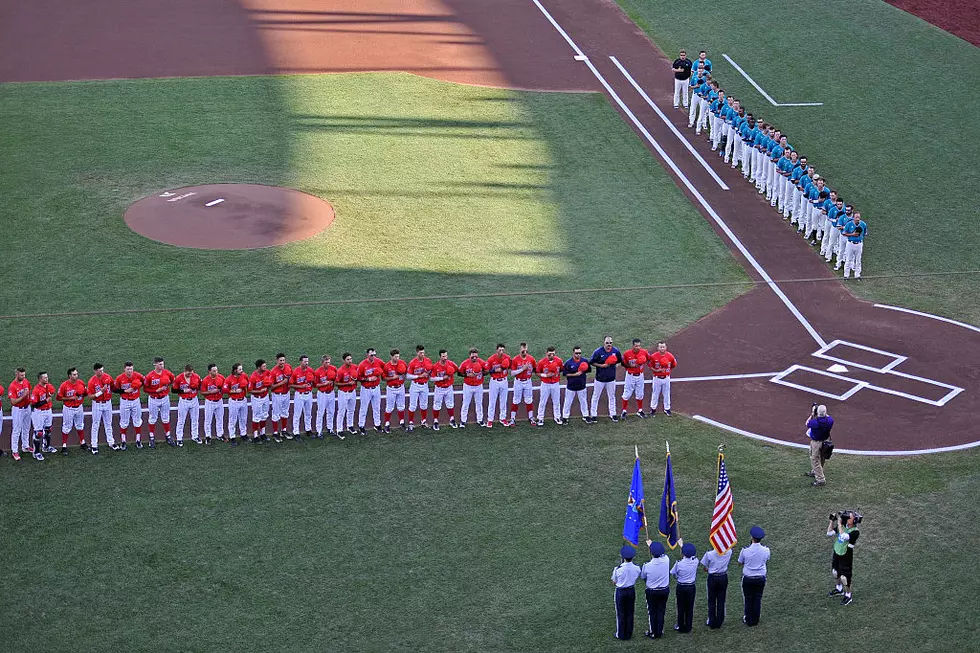 National Anthem Singer Banned After Doing Horns Down Gesture
Getty Images
I mean, he is an Aggie. That's what he has got to do.
Who doesn't love a good college rivalry? The University of Texas at Austin has many. Every team loves to give them the old horns down gesture to rub it in their face after a win. (Side note, I think it's pathetic Oklahoma does this even when they're not playing Texas) Well it looks like a horns down gesture has caused someone to lose their singing gig.
Just over a week ago, Zach Collier performed at the Women's College World Series. You can see after Zach is done performing the National Anthem. He does the horns down gesture several times. In fairness, he also did the 'Go Pokes' sign. Zach graduated from Texas A&M so he thought it was an in good fun.
Well someone at the NCAA did not think it was funny. Right after the game, Zach received an email saying his services were no longer need for the Men's College World Series. Looks like the NCAA isn't messing around when they say people can't do the horns down gesture. Not even national anthem singers can do it.
Zach has been singing for about a decade for the College World Series and it looks like that is done unless changes are made. Texas and Texas A&M are both playing in tournament which kicks off tomorrow. I know who Zach will be rooting for at home with horns down going the whole game I am sure.
CHECK IT OUT: 100 sports records and the stories behind them
LOOK: 20 Fascinating Photos From the First Modern Olympic Games in 1896
To celebrate the history of international sports cooperation,
Stacker
 took a look back at that groundbreaking event in Athens, when the modern Olympics were born in 1896. Keep reading to learn more about the athletes, spectators, and sports at that iconic event.