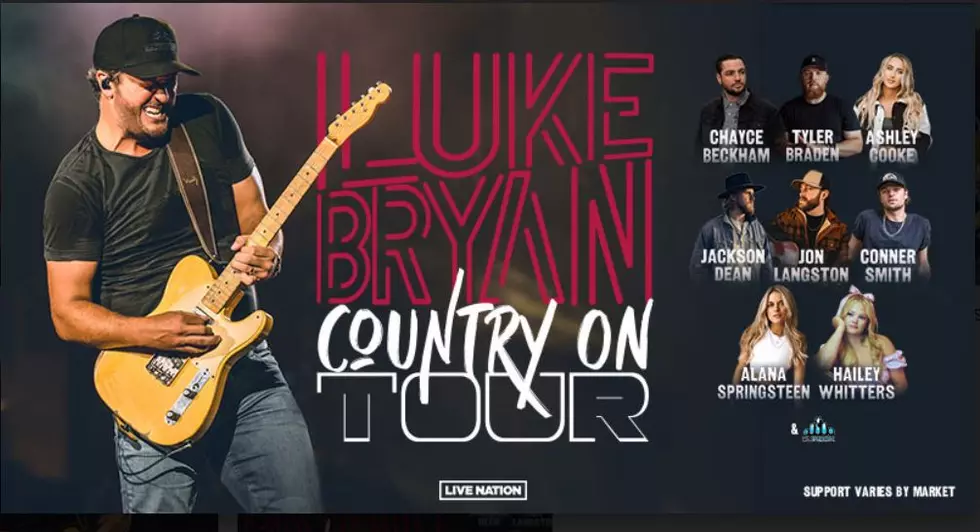 Luke Bryan In Lubbock Pre-Sale Starts This Morning! Get The Code
Gwendolyn McCown
Luke Bryan is coming!!!!! You guys always say we never get good shows, well here you go. Luke Bryan is going to bring his summer tour to Lubbock.
Here are the details:
Show Date: July 27th (Thursday)
Venue: United Supermarkets Arena (Lubbock)
Special Guests:  Jackson Dean, Ashley Cooke, & Tyler Braden
On Sale: Friday, February 3rd at 10 am
We are working on getting you guys a pre-sale code so you can buy your tickets early! How awesome is this! Luke is coming to Lubbock!
Pre-Sale begins this morning (Thursday) at 10 am and will run through 10 pm tonight
The password is LUKETX
Jackson Dean
Ashley Cooke
I actually got to see Luke Bryan's show in Las Vegas back in December, at Resorts World Casino. He put on a great show. I have seen Luke many times and he has yet to disappoint.
Luke wrapped up his Crash My Playa party in Cancun two weeks ago where he apparently had too much tequila and had to apologize to Dustin Linch for his crude intro, but it was all in good fun and Luke says he and Dustin are all good!
Luke Bryan is a very busy man. Not only did he just wrapped up Crash My Playa but he is currently filming the new season of American Idol, where he is a judge with fellow musical celebrities, Lionel Richie and Katy Perry, and now announcing a summer tour.
I had the pleasure of meeting Luke probably about 15 years ago. We were in Memphis for our annual St Jude Country Cares convention. I have to admit that I saw this cute guy, he was a new artist at the time so he was talking to everyone and asked me if we were playing his song and I had to admit that we were not at the time. Later I ran into him at the bar and we chatted it up again. Now, look where he is today. That's why you should never short-change someone because you never know who they could turn into.