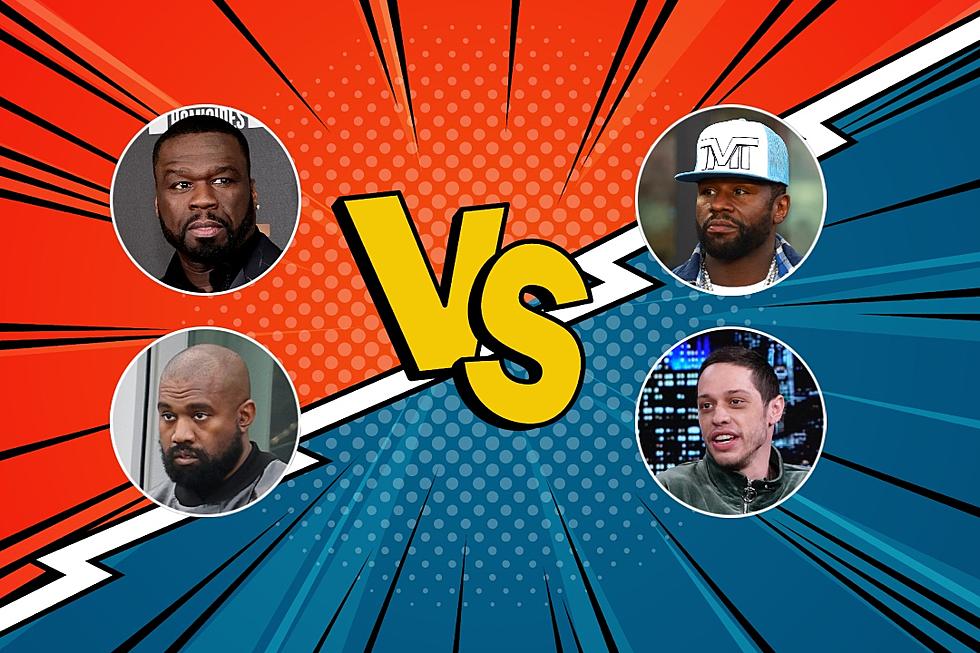 36 Feuds Involving Rappers Going at Non-Rappers
Jamie McCarthy/MEGA/Anastasiya Kandalintseva/ Megan Briggs/Rosalind O'Connor/Getty Images (5)
Rappers just don't beef with other MCs. With hip-hop as one of the most popular genres, it's become more integrated into pop culture over the years. As a result, there has been plenty of instances when rappers have gotten into feuds with celebrities outside hip-hop.
The poster boy for beef of any kind is 50 Cent. Since bullying his way onto the scene more than two decades ago, the multiplatinum rap star has managed to keep things aggressive. Synonymous with long-lasting beefs that stem from his days in the streets of Southside Jamaica, Queens, as well as short-lived tiffs that play out on social media, the G-Unit head honcho has had problems with just about everybody, including rivals, former crew members and mentors and random public figures.
One of Fif's biggest non rap-related feuds is his frenemy relationship with boxer Floyd Mayweather, which has played out on social media on multiple occasions throughout the years. They appeared to squash things in the summer of 2022. A few other of the non-rap names caught in 50's crosshairs have been talk show host and gossip queen Wendy Williams, who was denied entry to one of 50's parties; Love & Hip Hop's Teairra Mari, who lost a $30,000 revenge porn lawsuit to the "I Get Money" rapper and Randall Emmett, a producer on Fif's hit cable series Power.
As non-rap beefs go, Kanye West has also had his fair share. In 2022, Ye was embroiled in a months-long beef with former Saturday Night Live actor Pete Davidson because Davidson began dating Kim Kardashian after her and Ye parted ways and eventually got a divorce. The controversial Chicago rapper went so hard on Pete that Ye got suspended from Instagram because of it. And who can forget the time in 2005, when Ye famously dissed then-president George Bush for his lack of response to Hurricane Katrina.
These aren't the only rap stars to step out their lane to put someone in check over the years. Here are 36 beefs between rappers and non-rappers below.
See 36 Feuds Involving Rappers Going at Non-Rappers