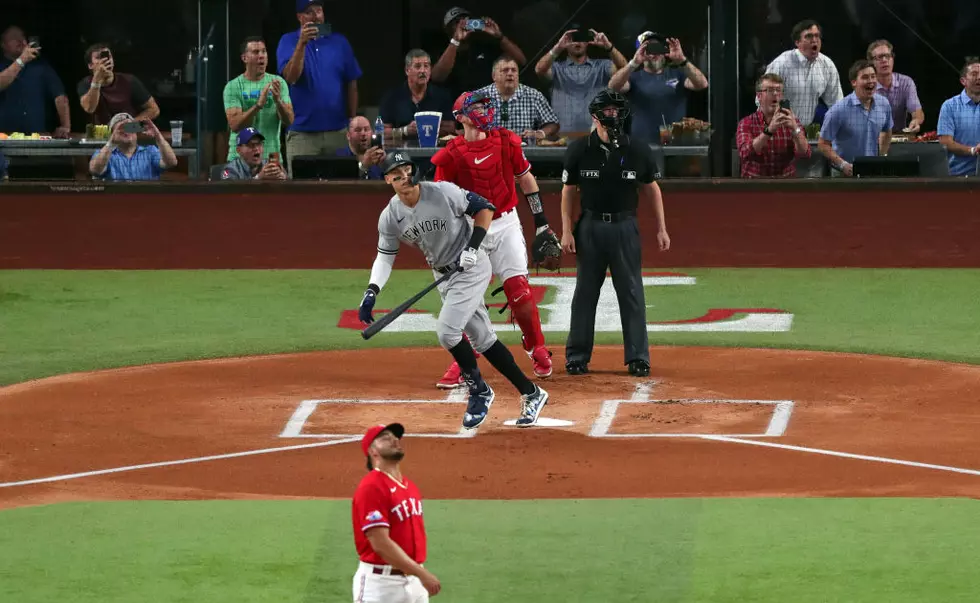 Dallas Man Has Turned Down Millions for Home Run Ball
Getty Images
If you had a part of history, what is the price you would be willing to let it go for.
In case you're not a baseball fan, earlier this year, a record was broken at a Texas Rangers game. New York Yankees outfielder Aaron Judge broke the single season home run record. Now technically Judge is seventh on the list, but everyone in front of him has been associated with steroids. This includes Barry Bonds, Sammy Sosa(who hit more in three separate seasons) and Mark McGuire (who hit more in two different seasons). You can believe what you want, but many people believe Aaron Judge is the true home run leader.
Cory Youmans attended the Texas Rangers game on October 4th earlier this year and had the best seat in the house. He was the one who caught Judge's record home run ball. He has apparently turned down multiple offers for the ball. One offer he says was at least three million dollars, and some were even willing to higher than that.
Youman is going to risk it and put the ball up for auction. Hopefully it goes above that three million offer and many imagine that it will. Goldinco just announced they're the ones that will be auctioning off the ball. It will be taking place November 29th and people are allowed to bid online. I imagine you must have some pretty deep pockets if you want this thing.
Considering I hate the New York Yankees more than anything in my life, I hope the ball spontaneously combusts somehow, but I don't think that will happen.
What Does the Dallas Cowboys Infamous 'White House' Look Like Today?
Back in the mid 90's during the Dallas Cowboys Super Bowl Dynasty, several members of the team went and partied at a house not too far away from the Dallas Cowboys practice facility. The home is located in a suburban neighborhood in Irving, Texas. The stories of sex and drugs are legends at this point. So, what does the house look like today? Check it out below.
2022 Dallas Cowboys Cheeleaders for the Bye Week
No Dallas Cowboys football this weekend. So let's take a look back at some of 2022 America's Sweethearts as we head into the bye week.