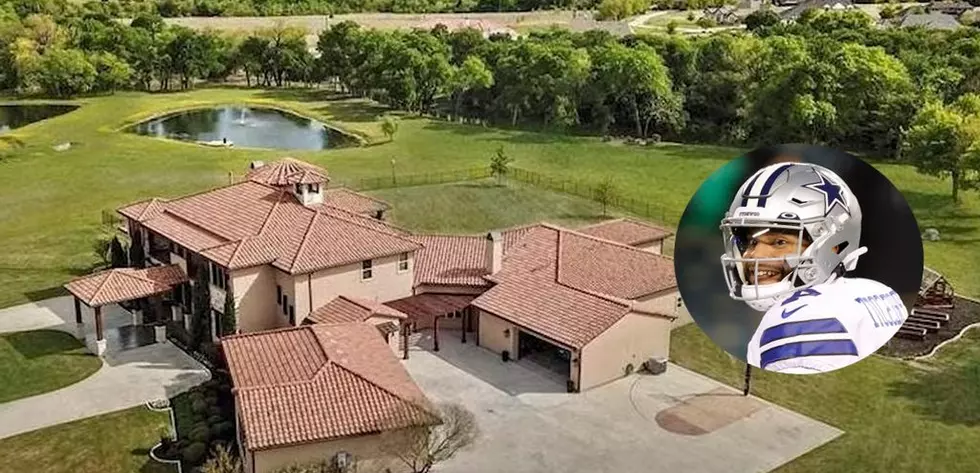 Wow! Have You Seen Dallas Cowboys Quarterback Dak Prescott's House?
Tim Nwachukwu Getty Images/ Zillow
Happy Birthday, Dak Prescott! July 29th! Hey Cowboys fans, our favorite QB is having a Birthday! Calling all Cowboys Fans! Have you seen 'Our' quarterbacks house? This VIDEO came up in my newsfeed and I'm so glad it did. I had heard about Dak Prescott's house, but now I was actually able to see it. Can I first say that Dak deserves every inch of this house and then some? Looks like a great place to throw a Birthday Party! What impressed me the most is the Sports Bar, and FOOTBALL FIELD, take a look!
• LET'S TAKE A LOOK AT DAK'S HOUSE!
• THE ENTRANCE
• THE LIVING ROOM
• MASTER BEDROOM
There are 5 bedrooms in the house
• THE MASTER BATHROOM
 • THE DINING AREA
The house was built in 2012.
• THE KITCHEN
• GUEST BEDROOMS
• SPORTS BAR
•THE WORKOUT AREA
• THE BACKYARD PATIO AREA AND POOL
• THE CUSTOM TURF FOOTBALL FIELD IN THE BACKYARD!
Yeah, the custom football field in his backyard is definitely the biggest highlight for me. Doesn't it make so much sense that he has a football field in his backyard? It is a custom 50 YARD football field that was put in by the same company that put in the actual Dallas Cowboys turf in AT&T Stadium. That rocks! Word is that he will practice with teammates on his football field in his backyard. Wow!
• 7 ACRES TO RIDE ATVS
Yes, he has some awesome ATV's and yes he likes to ride them in the MUD! And, he does it on his 7 acres of land. Do you think he has ridden with Zeke? Ha HA, I'm sure!
• GOLF HOLE AS WELL!
Dak loves to play golf and he's getting a custom Gold Hole ready in his backyard!
What City Does DAK Actually Live In?
According to the video, Dak lives in Prosper, Texas which is about 48 miles north of AT&T Stadium.
How Much Is His House Worth?
The house is worth $3 Million Dollars and has a Game Bar and Sports Simulator
Love the house! Love the Cowboys! And yes, we love ya Dak!
CHECK OUT THE HOUSE BELOW IN THIS VIDEO!
AND HERE'S DAK VIDEO OF HIM DOING SOME ATV ACTION AND ON HIS OWN FOOTBALL FIELD!
Are These The Top 5 Dallas Cowboys Man Caves?