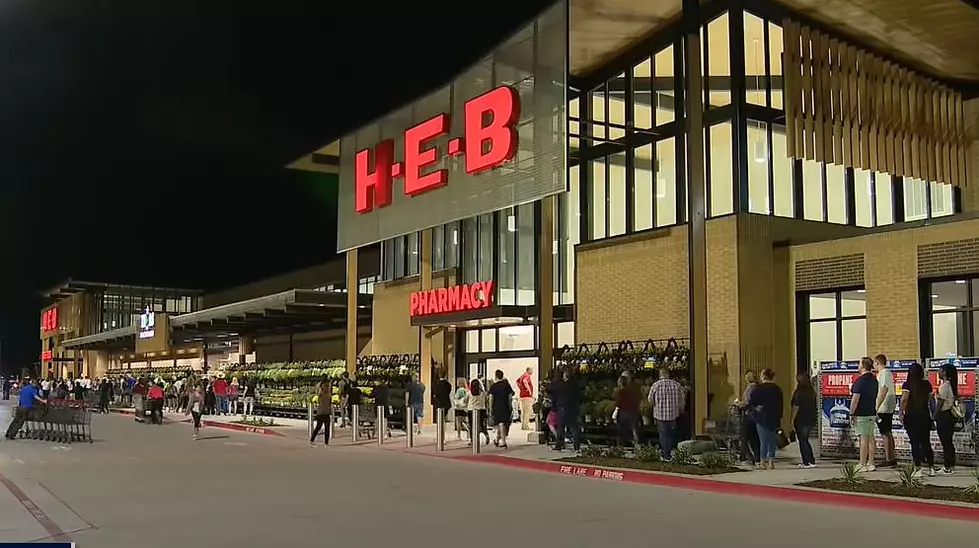 Why Were People Lined Up This Morning At This TEXAS H-E-B? See Video!
FOX 4 Dallas-Fort Worth Via YouTube
Look, it's pretty obvious that we here in TEXAS love us some H-E-B! I mean H-E-B is synonymous with Texas! So, what's up with all the people lining up this morning at this Texas H-E-B?
• PEOPLE WERE LINING UP OVERNIGHT AT THIS H-E-B! 
I mean, look, I will stand in line for certain things and I'm sure H-E-B is one of them but what was the deal at this H-EB?
• TAKE A LOOK AT THE VIDEO OF THIS LINE AT THIS H-E-B!
• THE METROPLEX GOT ITS FIRST H-E-B- TODAY!
The grand opening of the H-E-B store in Frisco, Texas was this morning and caused people to start lining up since 6 am yesterday! This store is located at Mainstreet and Legacy drive in Frisco, Texas! There are H-E-B stores in the outside areas of Dallas but this is the first within the Metroplex area!
• MARCHING BAND AND FESTIVITIES KICKED IT OFF THIS MORNING!
Marching Bands, giveaways, and a bunch of  HAPPY CUSTOMERS were part of the Grand opening at 6am in Frisco this morning!
• THERE ARE 8 H-E-B 'S UNDER CONSTRUCTION AS THEY GET READY TO TAKE OVER THE DFW AREA!
This new Frisco location of H-E-B is a first for the DFW Metroplex, but it's not going to be the last. In fact, H-E-B is about to INVADE the metroplex with 8 other stores which are under construction NOW. Get ready METROPLEX!
• CHECK OUT VIDEOS OF ALL THE HYPE FOR H-E-B- IN FRISCO BELOW! 
Wow! Have You Seen The Two-Story Whataburger In Texas?