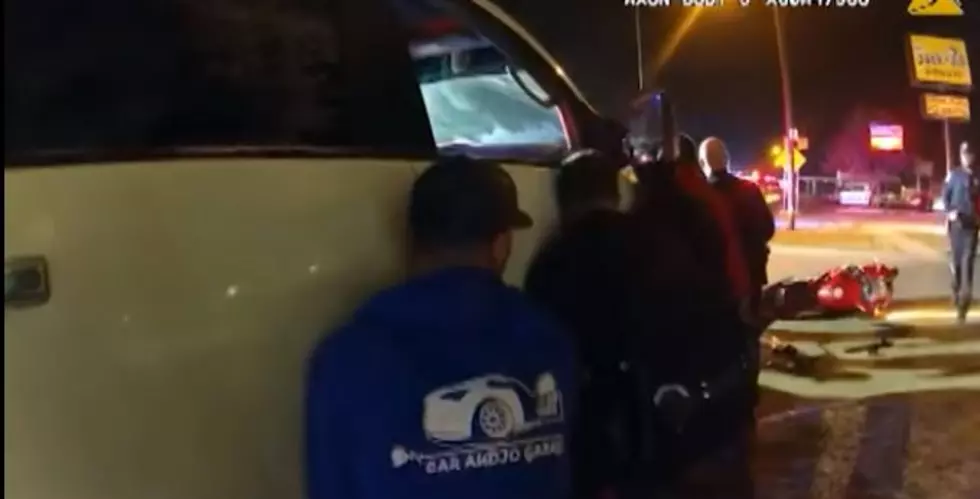 See The Video Midland PD Lift A Truck Off A Motorcyclist
Midland Police Department
When we all work together there is nothing that we can't accomplish and that is what members of the Midland Police Department did you help someone.
Police were apparently on the scene of an accident involving a motorcycle last night, that had the motorcyclist pinned underneath the truck.  Members of the Midland Police Department worked together to combine their strength and lift the truck enough to get the motorcyclist out. Check out the video!
I however don't know the details of the accident or the condition of those involved. I hope and pray everyone is ok.
If you are interested in becoming a police officer and giving back to the community, the City of Midland and the Midland Police Department are currently hiring for multiple positions.
Here is the list of what is required to work for the Midland Police Department: 
Performs a variety of law enforcement and crime prevention tasks, investigative work, special assignments, and technical and administrative tasks in support of the Police Department.
Participates in a variety of law enforcement activities which include arresting offenders and suspects for traffic and criminal offenses, appearing in court for criminal, civil, and other law enforcement-related matters; conducting surveillance.
Prepares reports on crimes and activities; attends briefings, and administrative meetings.
Operates department computer equipment to review records, inquire about activities and programs, and input various data.
Cooperates with other law enforcement agencies in matters relating to the apprehension of offenders and the investigation of offenses.
Interacts and works with citizens regarding existing and potential law enforcement and crime prevention problems and responds to requests and inquiries from the general public.
Works under stress and uses good judgment in emergency situations.
Physically apprehends and searches suspects utilizing appropriate techniques and maneuvers to render them safe for transportation and incarceration.
Performs a variety of physically demanding maneuvers and activities while involved in law enforcement and rescue operations, including running, walking, stooping, bending, rolling, crawling, climbing, jumping, lifting, carrying, dragging, and safely operating assigned equipment and vehicles.
Works under a variety of unfavorable conditions including exposure to gunfire, harsh weather, poor or no lighting, exposure to hazardous chemicals and smoke, extremes in temperatures, all types of weather conditions, electrical hazards, armed/dangerous persons, communicable diseases, etc.
Works irregular hours including weekends, holidays, and extended hours in emergency, disaster or other situations influenced by workload, staffing difficulties, or equipment-related repair problems.
Operates patrol car, handgun, baton, radar units, radios, computer, printer, etc.
."}" data-sheets-userformat="{"2":33554688,"11":4,"28":1}">
LOOK: Here are the best small towns to live in across America