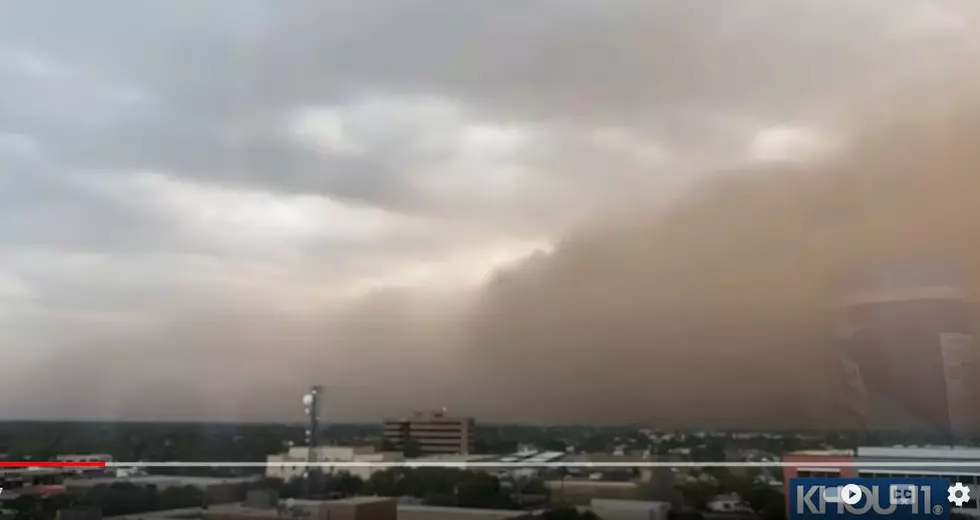 See Crazy Video Of The Dust Storm That Hit Midland! Video & Pics!
Heather Margeson Via KHOU11 Via YouTube
The storm rolled into all parts of the Permian Basin today. The storm hit today on June 8, 2022! Not a rain storm. Not a hail storm. But, a DUST STORM! This storm had West Texas written all over it. It started coming into the Permian Basin a little before 11am and when 12 NOON hit so did the dust!
HERE'S TIME LAPSE VIDEO OF THE DUST STORM ROLLING INTO MIDLAND
This video courtesy of KHOU 11 and Heather Margeson who shared the video shows the exact time that the dust storm started ROLLING into Midland today.
DUST WAS IN THE AIR AND IN YOUR MOUTH!
Around 12 NOON on Wednesday June 8th 2022, the dust was in the air. And, in your mouth, skin, face and everywhere it could settle. I went out of the station in the back to take a look and literally had the dirt settling in my mouth not even 20 seconds outside.
NOTHING NEW TO WEST TEXAS
Of course, us West Texans have seen this before and in many forms. Today's dust storm came in pretty quickly and really without any warning. The forecast did call for a slight chance of rain, but not a HEAVY chance of DUST, which is what we got today in the Permian Basin!
PEOPLE SHARED THIER PICTURES WITH US!
Check out the different pictures shared to our radio stations while the DUST storm was rolling in.
IS YOUR VECHICLE COVERED IN DUST?
My truck has a pretty good layer of dust on it and yes CAR WASHES will have lines tomorrow. Oh well, just another day in West Texas!
KEEP READING: Get answers to 51 of the most frequently asked weather questions...