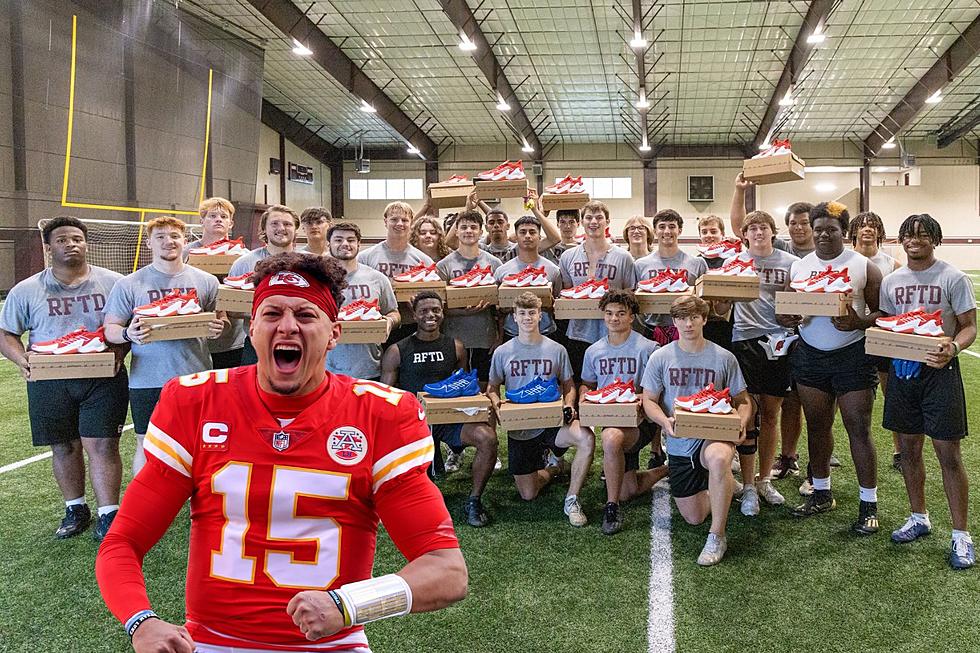 Patrick Mahomes Gifts Whitehouse, TX High Football Team New Shoes
Canva/Whitehouse ISD
East Texas Native And 2-Time Super Bowl And NFL MVP Patrick Mahomes Continues To Give Back To His High School Alma Mater.
Patrick Mahomes continues to show love to the area and the school that raised him. After a visit to old stomping grounds at Whitehouse High and his speaking engagement in Tyler a few weeks back, the "face of the NFL" as many are now calling him decided to send over another surprise to the kids at Whitehouse.
According To A Post By Whitehouse ISD, The NFL Star Gifted The Football Team With New Shoes.
If you recall earlier this month back on April 1, Mahomes was in town to speak at the 'An Evening with Patrick Mahomes' event hosted by the East Texas Speakers Forum where he took part in a question and answer for the more than 1500 people in attendance and during his visit to the area he made a visit to his high school alma mater to bring some encouragement to the kids there.
Unbeknownst To The Kids, They Would Get A Great Surprise From The Superstar.
This past Thursday, the Whitehouse football team arrived to school to find a big surprise with some new Adidas shoes courtesy of Mahomes, his shoe sponsor Adidas and 1Up Sports Marketing which represents Mahomes' marketing and endorsement efforts. You can tell by the smiles on these youngsters faces that are very appreciative of the gifts!
Let's take a look back at the superstar during his years at Whitehouse in this highlight video!
Pictures of Randi Mahomes at the Super Bowl
Let's look at what the Super Bowl experience was like when Randi Mahomes watched her son Patrick Mahomes win his 2nd Lombardi Trophy.
Patrick and Brittany Mahomes House After Super Bowl Win
After Patrick Mahomes won the Super Bowl with the Chiefs he upgraded his home.
Patrick Mahomes First Home in Kansas City
This was the first property Patrick and Brittany purchased after moving to Kansas City as he began his career with the Chiefs.