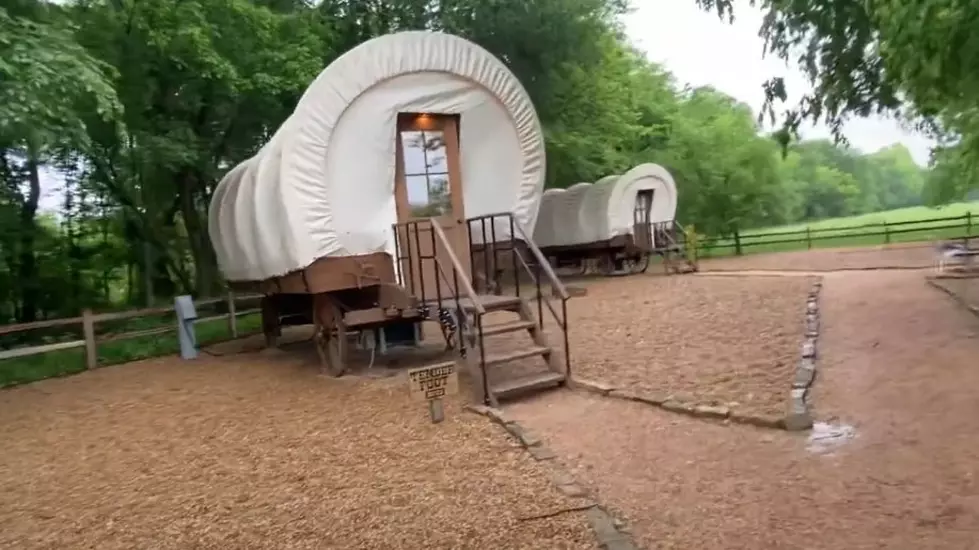 Is This The Most Unique Way To Camp Here In TEXAS?
Glam Journey Via YouTube 5
This might be one of the most TEXAS ways to do some camping. Camping is second nature here in Texas. So many incredible places to camp and go stay at. But, this might be one of the most unique camping trips around in the Lone Star State!
WAGON CAMPING AT SILVER SPUR RESORT IN CANTON TEXAS!
The Silver Spur resort in Canton Texas offers a chance to stay and camp in a covered wagon! Yep, a covered wagon! Talk about going back in the day!  The Silver Spur resort offers 4 covered wagons that you can reserve right in front of the water. Now, this is camping, Texas-style!
THE WAGONS SLEEP 4 PER WAGON!
These awesome cabins sleep 4. They feature a set of bunk beds and a King Size bed! Yep, King size bed along with some end tables. How did they fit all of this in the wagon?
WAGONS ALSO FEATURE A SITTING TABLE AND TOWELS!
Check out the dining table made from a wagon wheel. Yes, that's sweet. The wagon also provides towels and linens.
The official website for  silverspur resort states....
Each of our four Conestoga wagons is equipped with a king-sized bed, and either one or two sets of bunk beds, and a small table with chairs. Your adventure awaits year-round, as these wagons are climate controlled with heat & air. Each space also includes its own picnic table and charcoal barbeque.

 
AND TOWELS ARE PROVIDED FOR A BATHHOUSE!
AND LOOK AT THE VIEW OUTSIDE OF THE WAGONS!
Imagine waking up in the WAGONS and walking out to this view of Waterfront camping, yes count me in now! There is also a 'fire ring' for an evening fire for some smores!
FOR MORE INFORMATION AND BOOKING YOU CAN CLICK HERE FOR MORE INFORMATION!
Location: 13785 State Hwy 19, Canton TX 75103
Phone Number: (903) 420-1400
CHECK OUT THIS AWESOME VIDEO OF THE CONESTOGA WAGONS!
Whoa: 12 Amazing Treehouses You Can Stay at in Texas