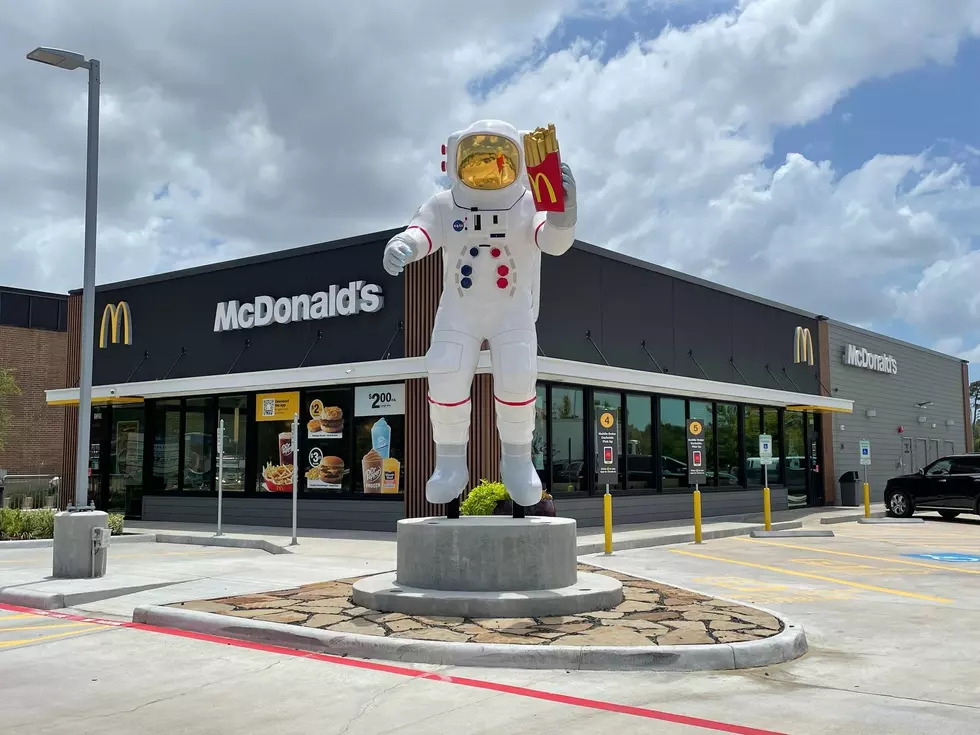 Incredible Astronaut! Look Who Just Landed At This McDonald's In Texas?
City Of Nassau Via Facebook
Well, that's not Ronald McDonald! Or is it? We might have to take off the helmet to check! Here is something you don't see at any Mcdonald's on the daily. And, yes it will make you do a double take!
ASTRONAUT INSTALLED  AT MCDONALD'S IN NASSAU CITY, TEXAS!
Address: 1320 E. Nasa Parkway
Nassau City, Texas was originally established to accommodate Johnson Space Center (JSC) and provide a community for astronauts, space professionals, and their families so this makes so much sense.
THE ASTRONAUT IS HOLDING THE BEST FRIES ON THE PLANET!
There are not a lot of fries on the planet that are better than McDonald's and from the look of this astronaut, these might be the best fries in the galaxy. They are definitely this astronaut's favorite fries. He's holding tight to them!
PHOTO OPPORTUNITY FOR ALL WHO VISIT!
The City of Nassau installed the Astronaut at this McDonald's as a Photo Opp for all who visit the area. Their Facebook states....
Looking for an out-of-this world photo opp? Come to Nassau Bay, where this incredible astronaut was installed today in front of the McDonald's located at 1320 E. Nasa Parkway! We encourage all of our residents and visitors to check out the astronaut, take photos/selfies, and if you get a shot you really love, tag us with

#visitnassaubay

and

#nassaubaytx

!

Parking for photos is available, and as always, we encourage all drivers and pedestrians to exercise caution while enjoying this new attraction...
THE MCDONALD'S IN NASSAU IS 9 MINUTES FROM SPACE CENTER HOUSTON
Water Color Art of Midland By Mary Lambeth
This is her Urban Collection of Midland.
Mary Lambeth was recognized by the Celebration of the Arts this year for her Art.