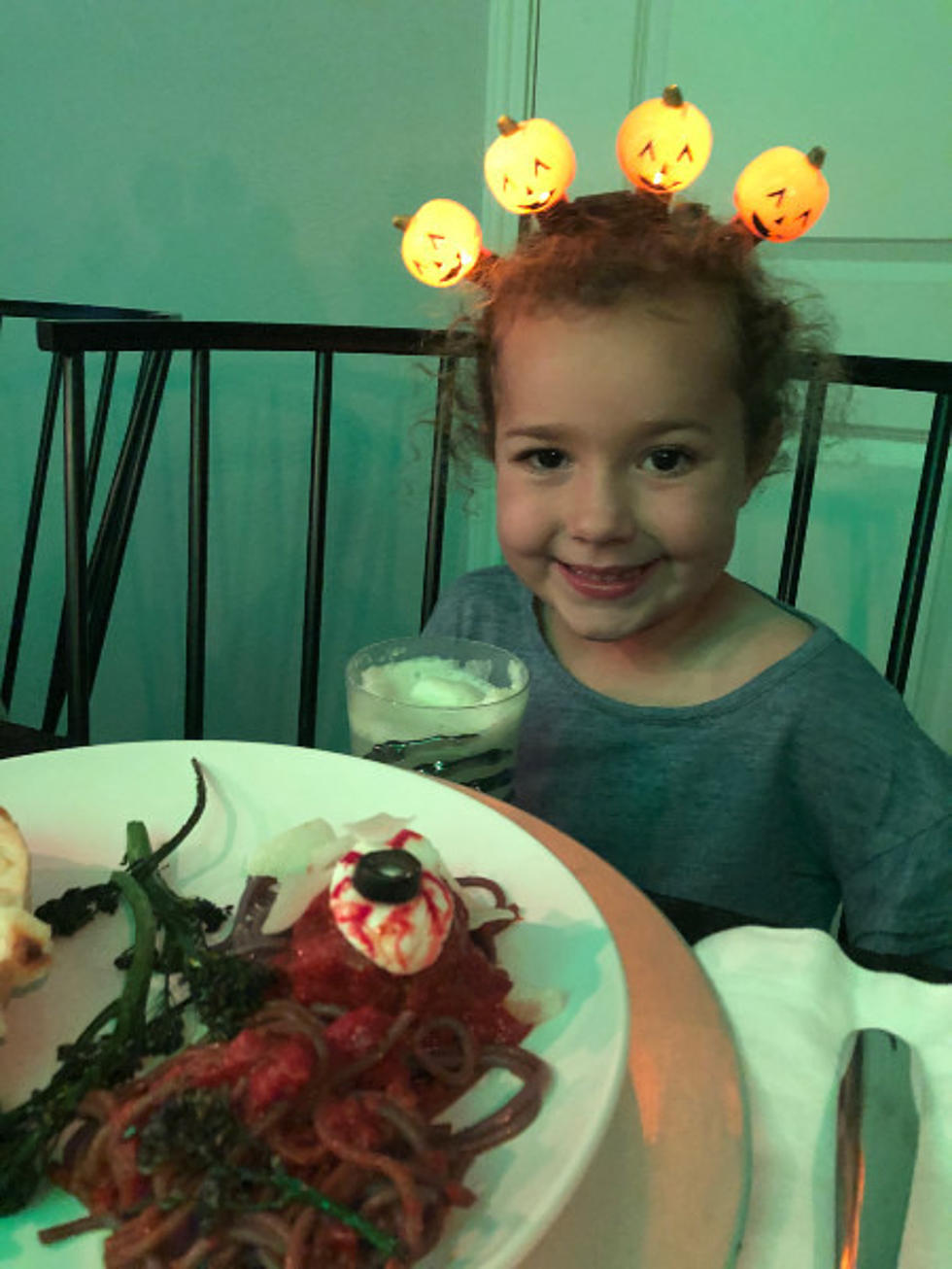 How To Create A Frightful Feast This Halloween
Midland Living Magazine
When we think about holiday food we always think about Thanksgiving and Christmas dishes, why not have some Halloween dishes. This year after a night of trick or treating or to get you in the spirit  let the family enjoy a frightful feast. Lauren Nutting recently shared how to make a Frightful Feast with Midland Living Magazine. 
We love a holiday at our house and any reason to celebrate!  Every October we dedicate one night to our annual Frightful Feast.  The dining room transforms into a creepy chamber of fun!  I change out the lamp lightbulbs to green bulbs to set the mood.  The table is decked with a black lace table cloth, skeletons, candles, spiders, skulls, and pumpkins.  I fill large glass canisters with water and green food coloring and submerge a creepy mask from Dollar General inside. Yikes! A head in a jar! The food is just a creepy as the ambiance.  Slimy Worms and Eyeballs (spaghetti and meatballs), Garlic Bread Mummies, Toxic Tonic, and Graveyard Cups for dessert. Don't forget to pump the spooky jams!  It's such a fun night; we look forward to it every year!
Here is Lauren's recipe's to make your own Frightful Feast:
Slimy Worms and Eyeballs (Spaghetti and Meatballs
Meatballs 
2 lb. ground beef
2 eggs, whisked
1/2 c. bread crumbs
3 cloves of garlic, minced
1 T. finely chopped parsley
1 t. oregano
1/4 c. freshly grated parmesan
1 tsp. kosher salt
Spaghetti and Sauce
2 lb. spaghetti
Purple food coloring
2 tbsp. olive oil
1/4 yellow onion, finely diced
3 cloves garlic, minced
1 tbsp. tomato paste
salt and pepper, to taste
28 oz. crushed tomatoes
15 oz can tomato sauce
1 tsp. dried oregano
1/4 cup freshly chopped parsley
1/2 tsp. dried basil
Eyeballs
8 oz. fresh mozzarella balls, drained
4 oz. can slice black olives, drained
Red food coloring
Instructions:
Preheat oven to 350.
In a large pot of boiling salted water, add several drops of purple food coloring and cook spaghetti according to package instructions. Drain.
In a large bowl, combine beef with bread crumbs, parsley, oregano, parmesan, egg, garlic, and salt. Mix until just combined. Scoop up a ball of the meat mixture using a muffin/cupcake scoop (or two tablespoons worth) and roll into a ball and place on a baking sheet covered in foil.  Bake for 20 minutes at 350.
Heat 2 tbsp. olive oil in a pot over medium heat. Add onions, garlic, and season with a little salt and pepper. Sauté until onions are tender, about 5 minutes.
Add the tomato paste and sauté 1-2 more minutes. Add the crushed tomatoes.
Add in the tomato sauce, parsley, basil, oregano, and more salt to taste.
Bring sauce to a boil. Once meatballs are done, add them to the sauce. Reduce sauce to a simmer and let cook.
While sauce simmers, place mozzarella balls on cutting board.  Top each mozzarella with a slice of black olive. Dip a toothpick into the red food coloring and draw squiggly lines from the center where the olive is  out. Repeat on all mozzarella balls.
Once sauce has simmered for 15 minutes, plate the purple pasta on a large serving platter and top with sauce and meatballs.
Place a mozzarella "eyeball" on top of each meatball.
Garlic Bread Mummies
Ingredients:
1 tsp. Garlic powder
6 tbsp unsalted butter, softened
2 tbsp Parmesan cheese, grated
1/2 tsp salt
black pepper
2 demi baguettes
6 string cheeses
16 black olive slices
Instructions:
Preheat oven to 450.
Combine softened butter, garlic powder, parmesan cheese, salt, and pinch of pepper in a bowl until thoroughly combined.
Cut each of the small baguette slices in half lengthwise and then again in half crosswise so you have eight halves. Spread each sliced baguette with the prepared garlic butter.
Thinly peel apart the string cheeses. Place two slices of black olives on each half for eyes and then place the pieces of string cheese in layers and criss crossing on top of the bread halves to look like mummies.
Transfer baguette slices onto a baking sheet. Bake at 500 degrees for 6 - 8 minutes, until the cheese is melted and just beginning to brown. Serve immediately.
Toxic Tonic
1/2 gallon lime sherbet
2 liter bottle of lemon lime soda
Instructions:
Using an ice cream scoop, place one large scoop of lime sherbet into a fun Halloween glass.  Top the sherbet with a healthy pour of lime soda.  Top with a ping pong eyeball (you can find these at The Dollar Tree or Target).
Graveyard Cups
Ingredients:
1 (3.9 oz) package instant pudding, any flavor, prepared as directed on box
1 can whipped cream
30 chocolate sandwich cookies (Oreos) (crushed)
Frosting or edible pen for writing
Candy bones and tombstones (baking aisle during Halloween)
Instructions:
In a large bowl, prepare pudding according to directions on the box.
In small clear cups, place a large spoonful of pudding, top with whipped cream and cover with crushed cookies.
Use frosting or edible pen to write "RIP" on each tombstone candy and place candy tombstone in pudding with just half of it sticking out. Sprinkle bones around tombstone.
Recipes courtesy of Midland Living Magazine  
https://lonestar923.com/free-community-trick-or-treat-activities/